I wanted to look at the year ahead. Using the Devas of Creation, I asked,
1) Will the world situation improve in 2021? Answer – Immanence (the card I call Gabriel). It's a lovely card, although the angelic being seems a little stuck on earth, even though it wants to fly. But it's an incredibly strong being, so we know it will take off. We have to keep the faith and carry on believing we can fly in the end.
2) What do we have to do, to get it to improve? Answer – First Light. This when the blackness of the void (nothingness) before Creation shifts slightly and begins to turns into a living flame of deep indigo-violet, and then turquoise light. The next card in the deck is the explosion of light and power that is Creation. I usually see this card as some new vision taking root in the universe. It's certainly time for that. Past time for it.
3) Will there be a big change of heart, hopefully somewhere in the middle of the year? Answer Harvest reversed. This is pretty ambivalent, especially with the reversal. One could say that our harvest is Covid-19 and climate change, and the extinction of thousands of different species. Normally Harvest is a lovely card, warm and promising, but I would say the reversal isn't good.
The last card was for me personally and made me laugh. It's the Insect card, which I always see as 'doing the work you love, and working hard'. No change there then.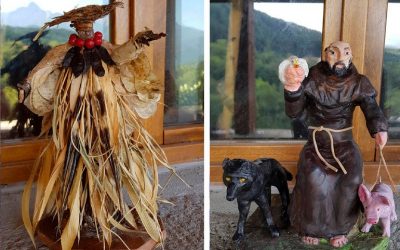 Recently I've been making a clay sculpture for a friend. I use special self-hardening clay sourced from the US – it's a clay and epoxy mix, which dries hard in 24 hours, and you can then drill it, carve it, and paint it. The friend wanted a Madonna for the little...