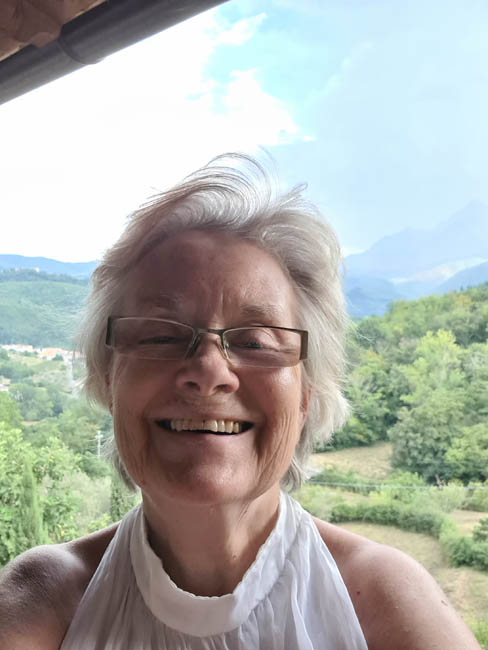 I was born in Holland, brought up in Zimbabwe (then Southern Rhodesia), and went to art college in South Africa. I emigrated to the UK in 1971 and spent 45 years working in various corporate offices, painting in the evenings. My first tarot deck was produced between 1973 and 1981, and set the scene for the rest of my work.
I took a number of self-development courses and after getting a degree in Fine Art, left the world of 9-5 office work and commuting in 2002.
Thereafter, my life took a major upturn, as The Intuitive Tarot was accepted for publication, and I simultaneously began painting The Devas of Creation deck. A few months later I began as a reader at Watkins Bookshop in London.
In 2016 I moved to north-west Tuscany and since then have concentrated on my artwork. I now have four more self-published decks (The Shimmering Veil Tarot and the new Old Gods Tarot, plus The Multi-Dimensional Devas, and The Book of the Dead oracle decks. (If you want to know why I self-publish, it's because you have to jump through far too many hoops in the conventional publishing world, and at the end of the process you may well have a deck you don't think much of. Controlling the quality of the publication myself means that when the deck is published, it is as good as I can make it.)
What Customers Are Saying
"I really do like your style. The colors and forms have a way of drawing a person in and they speak stories. I found more than my eyes involved. There were sounds and sensations, movement – all difficult to describe. And the last one to come up knocked me over, "Divinity." I am not joking when I say it was truly deja vu for me."

[Byzantine & Devas] Raphael, NY, 2019
"I feel the beauty and power of one of Gaia's most potent cycles flowing directly from your art and drawing me in, evoking very similar emotions to when I witness this in the natural world. Each speaks of Gaia in her own language. I am fascinated by the whole deck. Each piece of art holds immense energy. ."

[Devas of Creation], Kiera, UK, 2019
"The decks arrived the day before yesterday and are way beyond expectations. You really excelled yourself here. Everything is perfect. As I paged through the deck yesterday, I felt like I was seeing some of the cards for the first time – I'll be pathworking with this deck soon. Your art is magic and calls to me. Thank you again"

[IT and Devas], Lauri, US, 2019