Recently I've been making a clay sculpture for a friend. I use special self-hardening clay sourced from the US – it's a clay and epoxy mix, which dries hard in 24 hours, and you can then drill it, carve it, and paint it. The friend wanted a Madonna for the little enclosure in her gate (Italians tend to build in spaces for sculpture, and she has a space there that's 12" high). This piece still needs to be finished, but it's getting there.
A couple of years ago, though, I made two sculptures. One is called 'Birdie' and is a free-form sculpture, made from wood, grasses glue, and seeds (autumn is a great time for seeds as they fly everywhere). I finished by giving him a necklace of red berries. The other piece was made from the same epoxy clay as the Madonna – this time, a St Francis (plus wolf and pig, the animals he was particularly associated with).
I am now wondering about two more pieces: one lovely knotted root which could be a wing or a horn, and another partially burnt piece that might lends itself to a flying figure. There are times when I don't feel like painting or working in Photoshop, so I may well post a whole raft of sculptures, once they're finished.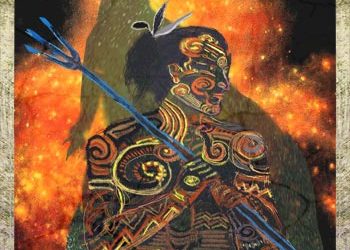 Thoughts on pip decks I have never used a pip tarot deck. I'm certainly not alone in this - many people prefer pictorial minors. But somehow, the Old Gods Tarot - which I'm creating at the moment - wanted to be a pip deck. Perhaps that's projection (I certainly...