I saw an email today where my correspondent said they'd love to know about art, materials and anything else that I might be offering. That's lovely to hear, and gives me an idea about my 'thought for today'.
I use oils most of the time now, although I know people tend to view it as quite a scary medium, but in fact watercolour (where many people start) is by far the hardest medium to master. Acrylic is quite a good experimental medium, but the colours are harsh and the plasticky feel isn't attractive. They also dry so fast that you can feel slightly stressed trying to keep up!
One very under-used medium these days is egg tempera, and that's how the illustration ('Homage to Flammarion') was produced. Most artists using egg tempera tend to go for photo-realism, but that wouldn't work for me. The only thing you have to watch is that slugs love it. The painting here was painted on hide, managed to survive the slugs, and was stretched with leather cord onto a wooden frame. By the way, Flammarion himself deserves to be a lot better known – a 19th century chemist, his imagination was, as you see, quite out of the ordinary. The original was an engraving, but it's been reproduced in many different media.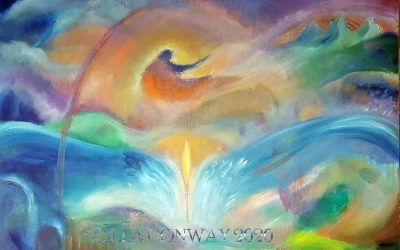 After a long winter, we are finally seeing the true signs of spring in Tuscany - daffodils in the garden, and hints of the first delicate green leaves on the trees. It's not that the winter was very cold, but it was very, very wet - I think it rained most days...