Thoughts on pip decks
I have never used a pip tarot deck. I'm certainly not alone in this – many people prefer pictorial minors. But somehow, the Old Gods Tarot – which I'm creating at the moment – wanted to be a pip deck. Perhaps that's projection (I certainly was quite intrigued to make one, even though I thought it would be difficult). But there was never any question that this deck would be fully pictorial – it just didn't seem right. So, when I began the Cups suit, I was a little tentative. Soon, though, I found that there were a variety of ancient cups online, some of them extremely beautiful, some a bit wonky, like the Vandal cup found by archaeologists and pieced together (the Vandal kingdom collapsed after about 533AD). 
Moving onto the Discs, I suddenly found a theme that binds the suit together beautifully – sacred geometry. I think it's my favourite suit, although I'm having fun with the Staffs / Staves / Wands (I haven't decided on this suit's title yet). It's the most magical of the suits, at least in this deck, as right from ancient times, magicians and shamans would find or create their own staff which would be an extension of their will. Today, the staffs that contemporary shamans create are extremely beautiful – some of them look very potent! Also I am discovering that Tibetan shamans have extraordinary powers, which I'll talk about in the lwb (I haven't finished either the suit or the Tibetan book yet, so you'll have to wait to hear more about that).
The Swords (Blades?) haven't taken shape at all yet, though I'm beginning to download images. This deck uses images that are sourced from the internet which I then combine and filter through Photoshop. It means I have to give a fairly comprehensive list of images at the end, or the original photographers won't be happy. But it does mean that I can use ancient swords, staffs, cups and coins more or less as I find them. There are, of course, numbers of tarot decks that use sourced photographic images but I usually paint my own. But painting the pip symbols would be a huge undertaking and the result wouldn't be as clear as using the photographs, especially as I use filters that improve their clarity.
In contrast, the Face Cards are, of course, my own creation – as you can see from the Warrior (Knight) of Staffs or Staves. He is depicted as a Maori warrior deity, Ruoumoko, although the primeval dragon behind him is Tiamat – the Babylonian goddess of the sea. Obviously all these deities will be described in the accompanying booklet (lwb), and as you can see there's an eclectic selection of gods and goddesses (of course, they're the ones I find the most intriguing and attractive). But you'll have to wait to see them – I'm hoping I can get the deck finished and published by October 2022,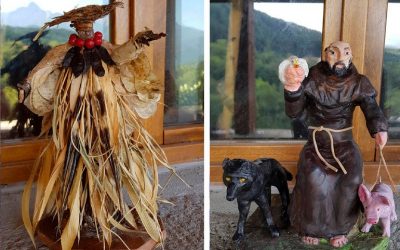 Recently I've been making a clay sculpture for a friend. I use special self-hardening clay sourced from the US – it's a clay and epoxy mix, which dries hard in 24 hours, and you can then drill it, carve it, and paint it. The friend wanted a Madonna for the little...